The GVCA was formed in 1958. Over the years, they have earned a reputation for caring about our community, for providing responsible leadership and promoting community spirit through community events such as Christmas and New Years Celebrations, Guildwood Day and a community Garage Sale Day. The GVCA is made up of an Executive Committee elected by residents as well as committees such as Finance, Membership and Communications. I have worked with various committees in the Association including the Flag and Brand Design Committee as well as the Communications Committee to create various graphic assets for the association.
Raising a Flag for Guildwood
The flag was a project to mark the 60th anniversary of the GVCA. I was part of a team of community volunteers from backgrounds such as Design, Illustration, Marketing and Public Relations that worked for close to a year on over 100 different flag designs and consulted with many different community groups in order to create the final outcome pictured below.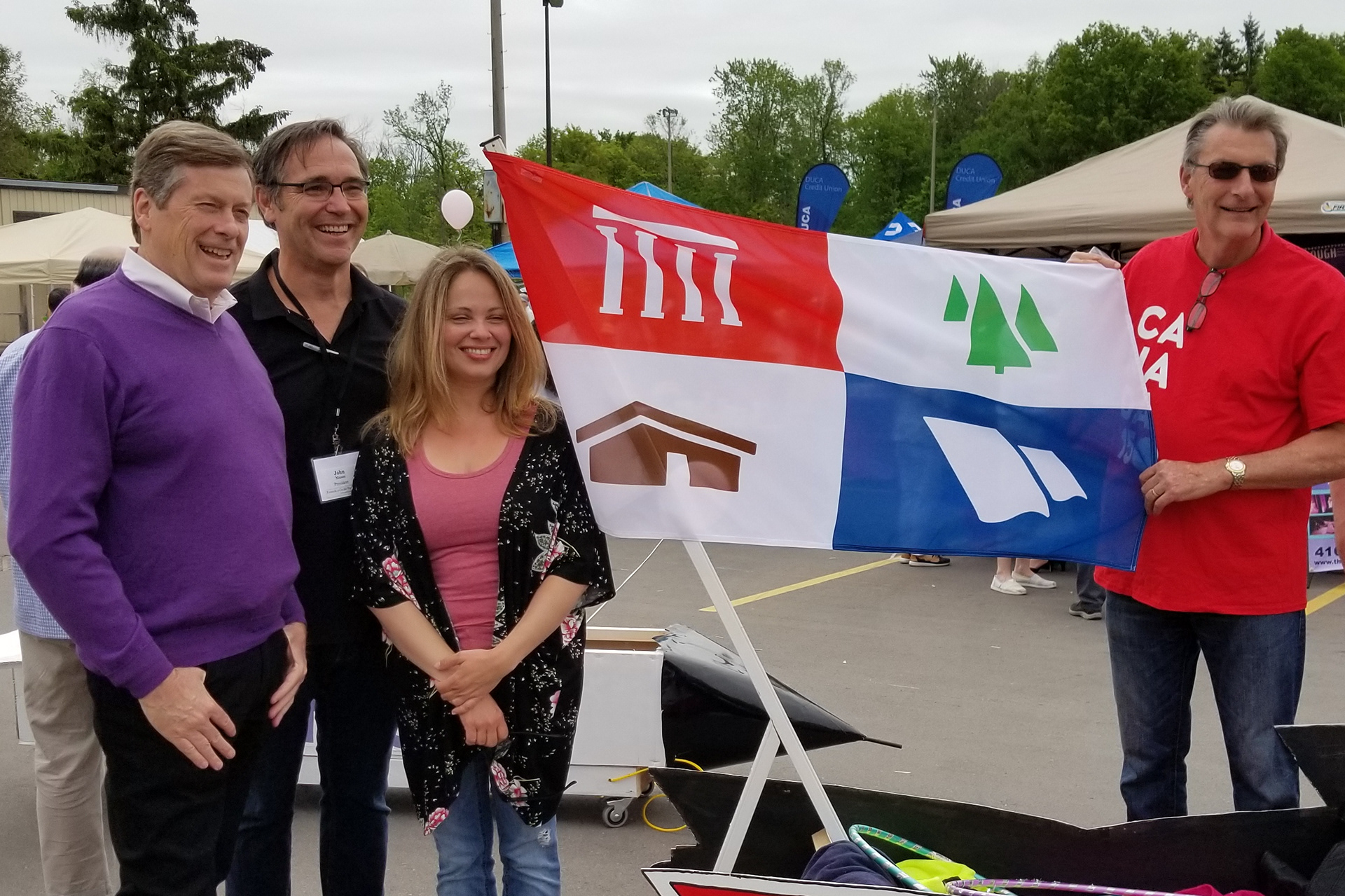 The Guildwood Village flag features four rectangles in a layout similar to many traditional banners. Each rectangle includes a symbol representing a feature that village residents are proud of: 
- The white columns from local Guild Park represent the "Guild" 
- The three green evergreen trees represent "wood" 
- The brown bungalow, typical of the first homes built in the community, represents "Village" 
- The sloping white cliffs linking sky and shore represent "on the Bluffs" 
Together, the symbols send the message: "Guildwood Village on the Bluffs" and the colours link Guildwood to Canada and to Toronto. The red is from the Canadian flag; the blue from the city's official flag


The four symbols used in the concept above represent four aspects of the community that make the Guildwood community distinct from any other community in Toronto. The community's distinct mid-century modern houses represented by the house icon in the shape of that distinct design, The Guild of all Arts started by community founders Rosa and Spencer Clark represented my the Greek columns, the communities abundance of parks represented by the trees and our location atop the Scarborough Bluffs. All of these symbols together provide a distinct image of what the Guildwood Community is.